As an artist making illustrations for coloring books I have an interest in the illustration throughout time. In the pipparossi.com blog series a Journey through time in illustrations we explore some art works from the past. Each post describes a different artwork. In this post we exhibit Lucien Pissarro.
Lucien Pissarro, 1863 – 1944, was born in Paris France. In 1890 he came to live in London U.K. The artist makes fine illustrations, drawings, prints and paintings, being an impressionist and a neo-impressionist. He was the son of the Impressionist painter Camille Pissarro, who was also his teacher. He was a member of the New English Art Club and exhibited at the Royal Academy in London.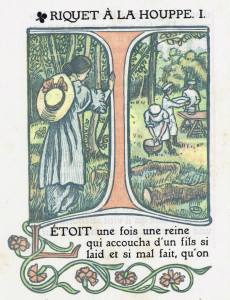 Fancy letter by print maker Lucien Pissarro, 1907
Paper, h 132 mm × w 140 mm
First page of the first chapter of the book " Riquet à la Houppe " ( Riquet with the crest ). The capital I integrated into an illustration. A young girl seen from the back, looks at men who are at work. Under the picture text and floral tendrils.