Reinier Nooms (c. 1623 – 1664), also known as Zeeman (Dutch for "sailor"), was a maritime painter known for his highly detailed paintings and etchings of ships. Nooms was probably born and died in Amsterdam, The Netherlands.
As an artist making illustrations for coloring books I have an interest in the illustration throughout time. In the pipparossi.com blog series a Journey through time in illustrations we explore some art works from the past. Each post describes a different artwork. In this post we exhibit Reinier Nooms.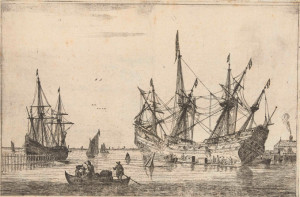 A large sailing ship lies careened into a yard. Men work smoothly on the hull of the ship. In the second harbor a sailing boat, rowing boat with passengers and a flute with a breakwater.
Waterproofing of the hull of a ship, Reinier Nooms, 1650 – 1664
etching , H 193mm x W 296mm.